THE BALWYN VETERINARY SURGERY
About Us
6 Reasons for Choosing Us
We Care
We truly care about your pet's well-being and take everything seriously.
Experienced
Over a decade of experience in the Veterinary field, we are trusted by all our customers.
Wide Range of Services
We offer a wide range of services to cover all your needs in one place for your pet.
We're Local
We are local and we are here to help. Easily accessible and approachable location.
Friendly Environment
We provide a friendly and relaxed environment for you and your pet.
We Love Pets Too
We are also pet lovers, so we know exactly how to look after them.
Dr Lan Tran
Veterinarian
BVSc (Hons)
Graduate Diploma of Veterinary Clinical Studies
MANZCVS (Small Animal Medicine & Surgery)
Read more...
Lan graduated from the University of Sydney in 1996. After working in Canberra for 2 years, Lan completed a surgical internship at a specialist centre, a Graduate Diploma in Veterinary Clinical Studies, and a residency in small animal medicine at Sydney University. She also has memberships in small animal surgery and medicine from ANZCVS. Lan was a head veterinarian of a small animal veterinary hospital in Sydney, before relocating home to Melbourne.
Lan's areas of interest are endocrine (hormone dysfunction), neurology, soft tissue surgery and preventative medicine.
Lan is passionate about providing first-class veterinary care for her patients and their owners. The most exciting part of coming to work for her is that there are never two days that are the same. Every day is different, with different patients with different predicaments and meeting different people. Her patients forgive her as long as there is a reward at the end, and she loves that they never complain about being hugged and cheers her up on the busiest and most stressful day.
Lan finds the most rewarding part of being a Vet is to be able to relieve an animal from pain or to see a formerly too-sick-to-eat dog hungrily eating a bowl of food, or to see a cat with a of life-threatening urinary obstruction can now urinate with ease.
Lan believes she has The Best Job in the World!!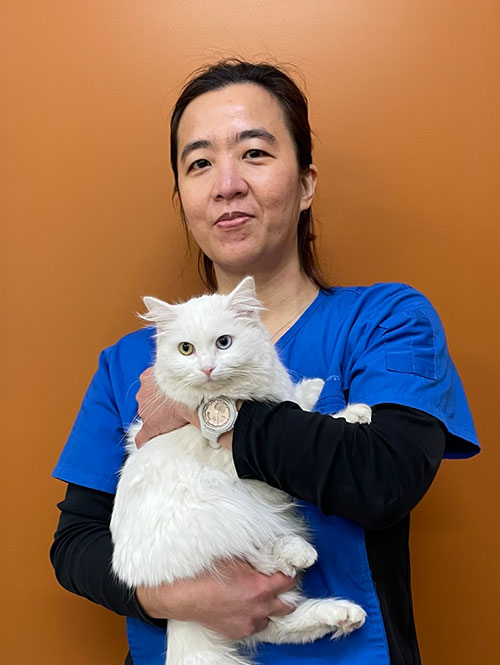 Read more...
Originally from Malaysia, Jessie graduated in Veterinary Medicine from the University Putra Malaysia in 2005, commencing work shortly after as a veterinarian for five years in Kuala Lumpur. In 2010, Jessie moved to the UK where she took two years off to focus of becoming a member of the Royal College of Veterinary Surgeons. Jessie moved to Singapore in 2012 and Melbourne in 2017 where she continued her career as a veterinarian where her professional interests include soft tissue surgery, feline medicine and diagnostic imaging.
Jessie believes the best part about her job is being able to journey with her patients and seeing them recovered from their sickness as well as relieved them from their pain, but witnessing the strong bonding between her clients and their furry pets each day, and providing them with the best veterinary care and client education excite her to come to work each day. Although Jessie has no pet family, she is currently in search of one (preferably a ginger kitty).
Kiarah
Senior Veterinary Nurse
Certificate IV Veterinary Nursing
Certificate II Animal Studies
Read more...
Kiarah is our Senior nurse at Balwyn Veterinary Surgery.
Kiarah joined the team in 2020 and has 3 years nursing experience. She has a special interest in surgical nursing as well as Oral Health Care.
In her spare time, Kiarah enjoys spending time with her impatient and demanding but lovable pug Pikachu, who you may have seen napping under the reception desk.
Jacinda
Veterinary Nurse
Cert IV Veterinary Nursing
Read more...
Jacinda is one of our fulltime nurses who joined our team in 2022 and completed her Certificate IV in Veterinary Nursing shortly after.
Jacinda's passion for animals started from an early age, growing up on a goat farm and having a wide variety of pets from goats, sheep, camels, horses, dogs, cats & rabbits.
Jacinda is dedicated to providing exceptional care to our patients.
In her spare time Jacinda enjoys reading, going to concerts, travelling, and spending time with the variety of animals on her parent's goat farm.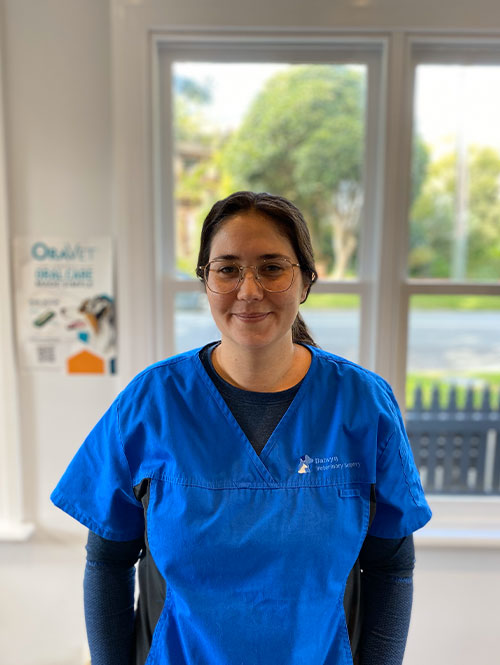 Stacey
Head Veterinary Nurse
Cert IV Veterinary Nursing
Read more...
Stacey is our Head Veterinary Nurse at Balwyn Veterinary Surgery.
Stacey joined our team in early 2023 and has a decade of veterinary nursing experience. She has a special interest in surgical nursing, anaesthesia, and behaviour.
Stacey also runs our puppy school classes which has an emphasis on preventative health and behaviour.
In her spare time, she enjoys reading, fitness boxing and going to craft markets.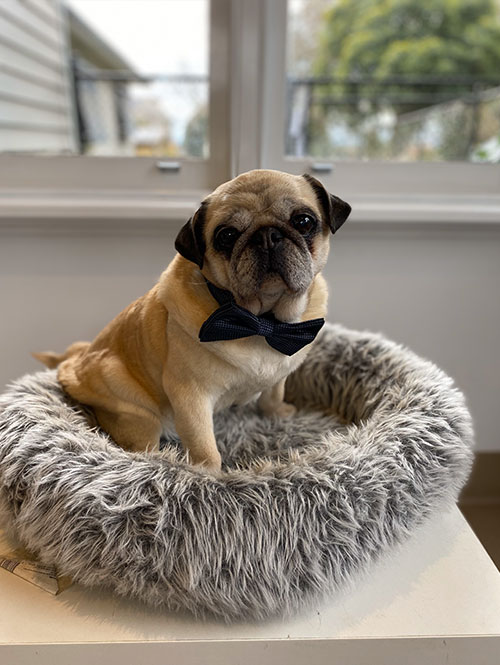 Pikachu
Office Manager
Certficate III Treat Procurement
Read more...
Pikachu is our office manager. Her job role includes sleeping under the reception desk, overseeing the distribution of treats (into her mouth) and providing emotional support for our team.
In her spare time, she loves to hang out and boss around her human, nurse Kiarah.
Annmaree
Junior Veterinary Nurse
Read more...
Annmaree joined our team mid 2023 as a junior Veterinary Nurse and is currently completing her Certificate IV in Veterinary Nursing. She is very excited to be a part of the team and to develop her Veterinary Nursing skills.
Annmaree's passion for all animals and their wellbeing began at a young age, leading her to pursue a career as a veterinary nurse.
Annmaree has a special interest in behaviour and fear free handling.
She enjoys spending her spare time snuggling up with her cats, 1 year old siblings Oli and Possum.
Opening Hours
Monday: 8:30am - 6pm
Tuesday: 8:30am - 1pm / 3pm - 6pm
Wednesday: 8am - 6pm
Thursday: 8:30am - 6pm
Friday: 8:30am - 6pm
Saturday: 8:30am - 3pm
Sunday & Public Holidays: Closed